To read the tribute to SFC Marcus Muralles, please click here
Wednesday, September 28, 2005
Calimari, Anyone?
This wee beastie
would be enough to feed a small army... or my kids...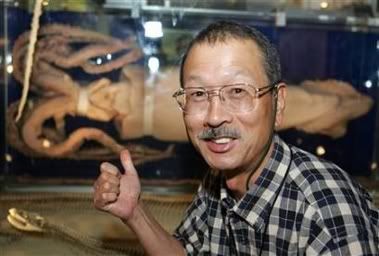 The team led by Tsunemi Kubodera, from the National Science Museum in Tokyo, tracked the 26-foot long Architeuthis as it attacked prey nearly 3,000 feet deep off the coast of Japan's Bonin islands.

"We believe this is the first time a grown giant squid has been captured on camera in its natural habitat,'' said Kyoichi Mori, a marine researcher who co-authored a piece in Wednesday's issue of the Proceedings of the Royal Society B: Biological Sciences.
Um... how do you prepare giant squid? And... wouldn't it be tough? Or maybe a bit gamey?