To read the tribute to SFC Marcus Muralles, please click here
Tuesday, November 22, 2005
I Know He's a Dead Thing™, But I'm Still Praying For Him
Red Wings'defenseman
Jiri Fischer collapsed
on the bench Monday night during the first period of the Wings game against Nashville. He had a seizure, and CPR was administered by the team's physician when Dr. Colucci could not locate a pulse.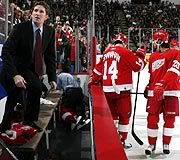 (Ken) Holland (team general manager) and team physician Tony Colucci — who performed CPR on Fischer on the bench Monday night — said the player was "in good spirits."

Fischer, 25, was in good condition after he began having convulsions on the bench late in the first period of a game against the Nashville Predators. Colucci wasn't able to detect a pulse after Fischer collapsed, and an auto defibrillator was used on Fischer.

After performing CPR, Colucci said he detected a good pulse and Fischer was taken out of the arena by ambulance to Detroit Receiving Hospital. Colucci said it was uncertain how long Fischer's heart may have stopped.
He's undergoing tests and will be under observation until they figure out what in the world happened to him.

NHL officials postponed the rest of the game, and a date to finish the game has not been announced yet.

Like I said, he may be a Dead Thing, but my prayers still go out to him and his doctors as they try to help him. He's so young... hopefully his hockey career can continue- if not on the ice, then coaching or scouting.