To read the tribute to SFC Marcus Muralles, please click here
Friday, March 10, 2006
Please Tell Me This Is a Joke
When you head to the ballpark to see a game, concessions are an important part of it, right? You need a beverage (or three)... some nachos with plastic cheese... maybe a giant pretzel or a hot dog. If you go to some of the newer stadiums, you can get pizza or subs or wings. Sushi is even available at some major league parks.
This
, however, was not on my list of "yummies to munch on".
The ballpark sandwich will include a hamburger topped with sharp cheddar cheese and two slices of bacon -- all between a "bun" made of a sliced Krispy Kreme Original Glazed doughnut.

If you can find a (loop)hole in your cardiologist's advice, calorie counters predict the monster will set you back about 1,000 calories and 45 grams of fat.

... The Grizzlies are no strangers to self-promotion through caloric innovation. Two years ago they introduced what they called "Baseball's Best Hotdog," a dog topped with two strips of bacon, sauteed onions, sauerkraut and cheddar cheese sauce. They upped the ante last year with the "Swiss Brat," a bratwurst with a slice of Swiss cheese in the middle of it, topped with sauerkraut.
Here's what it looks like: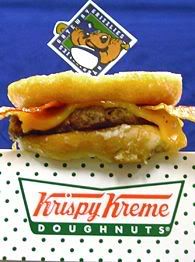 That doesn't look even remotely appetizing. I've thought about taking the boys to a
Grizzlies
game the next time we're in STL... I'm not so sure now... my arteries are hardening just looking at that thing... I'm pretty sure my cholesterol level will rise just walking into GMC Stadium.