To read the tribute to SFC Marcus Muralles, please click here
Friday, February 29, 2008
Rising From The Ashes
(h/t to
Fausta
) Tomorrow morning, the San Antonio-class amphibious transport dock ship
USS

New York

(LPD 21)
will be christened
. Twenty-four tons of the steel used to build the ship came from the what was left of the World Trade Center after 9/11. Its purpose- deliver a battalion of Marines wherever they might be needed as quickly as possible.
Commissioning is tentatively scheduled for Septenber 11, 2009. Two of her sister ships will be named
Arlington
and
Somerset
, after the locations where the other planes went down in the terrorist attack in 2001.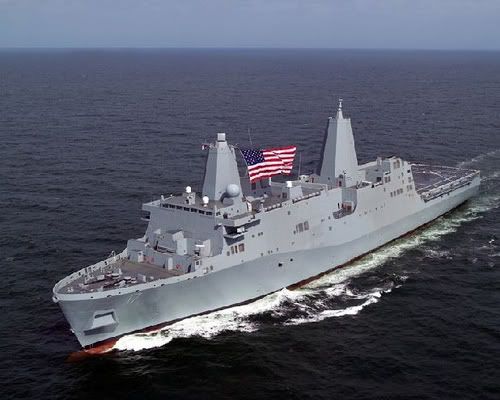 The ship's motto? Never Forget.
Fair winds and following seas.