To read the tribute to SFC Marcus Muralles, please click here
Wednesday, March 26, 2008
Medal of Honor Day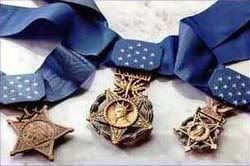 In 1990, Congress declared that March 25th of each year shall be "Medal of Honor Day." Here's
a message
from Nicky Bacon, President of the
CMOHS
:
NICK BACON, PRESIDENT OF THE CONGRESSIONAL MEDAL OF HONOR SOCIETY REMARKS FOR MEDAL OF HONOR DAY

The Congress of the United States of America passed an Act on November 15, 1990, proclaiming March 25 of each year "National Medal of Honor Day".

The Medal of Honor is the Highest Award for Military Valor that can be given to an individual for bravery on the battlefields of war, distinguishing personal gallantry at the risk of life, above and beyond the call of duty. From it's conception in 1863, there have been 3,456 medals awarded, and only 147 of us remain alive today.

The living recipients continue to dedicate themselves to the principles, institutions, and ideals that have created for all Americans our precious heritage.

We shall never forget the sacrifices of all those brave souls who stood with us during these battles, tribulations and actions that resulted in us recipients having the privilege to wear, for all veterans of all wars, our Nation's Highest Award, the Medal of Honor.

Let us continue to serve America honorably, educate our youth on the true value and the cost of freedom, and remind all that a country is no stronger than the will of its people.

May God Bless America and its Great Warriors, Our Veterans..

Nicky D. Bacon, MoH
Sixteenth President, CMOHS
I don't know if it's a coincidence or not, but today, Deebow had
an interesting post
on Blackfive. Read below the fold. Amazing story. After reading some of the MOH citations, that sounds on par with their valor under fire. IMO, anyway.
For more stories of remarkable valor,
go here
.