To read the tribute to SFC Marcus Muralles, please click here
Thursday, May 01, 2008
Day of Prayer
*** The time stamp on this is 11:59pm so that it will stay on top all day.***
"My heart has been changed through prayer. If it can change one heart, it can change the heart of a nation."-

Tony Dungy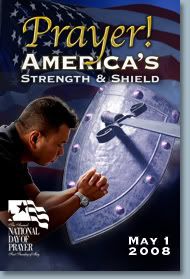 Today is the 57th annual National Day of Prayer. Here is the
President's proclamation
, and here is this year's "official" prayer, written by Ravi Zacharias:
Holy Father, in a world where so many are hungry, You have given us food in abundance;

In a world where so many are hurting, You offer to bind up our wounds;

In a world where so many are lonely, You offer friendship to every heart;

In a world longing for peace, You offer hope.

Yet, we are so stubborn and resistant. Have mercy upon us, Lord.

Our nation is at a crossroads this year; we look to you to be our strength and shield.

Please give us the guidance to elect one who will honor you and to respond to the wisdom from above so that our hope may be renewed and our blessings be treasured.

In God's holy name.
On the National Day of Prayer website, they also have a "pray for the election" link. I was getting ready to start my posts on prayer for the election (like I did in 2004), so I guess I'll do my first one my pointing you to
this page
. They also have a
7x7 prayer campaign
, if anyone wants to commit to praying for our country every day.