To read the tribute to SFC Marcus Muralles, please click here
Wednesday, June 25, 2008
And It's Off to Beijing
I'm not a huge fan of Greco-Roman wrestling. OK, that's probably an understatement- I'm not a fan of wrestling at all, even though my uncle was a wrestler back in the day. That doesn't mean that this isn't kind of cool.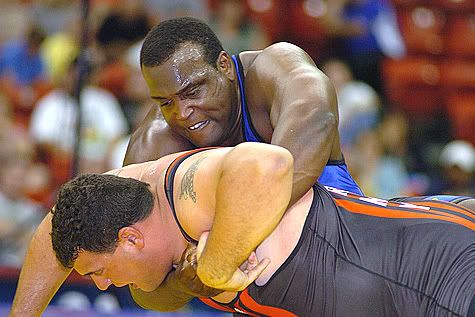 U. S. Army Staff Sgt. Dremiel Byers defeats U.S. Army World Class Athlete Program teammate Army Spc. Tim Taylor in the finals of the 264.5-pound Greco-Roman division of the 2008 U.S. Olympic Team Trials for Wrestling at the Thomas and Mack Center, University of Nevada, Las Vegas, June 15, 2008. Byers won the best-of-three series, 2-1, and earned a berth in the Summer Olympics in Beijing, China. U.S. Army photo by Tim Hipps
Well, that's one way for the Army to invade China, right? Good luck to Staff Sgt. Byers!!!