To read the tribute to SFC Marcus Muralles, please click here
Tuesday, June 24, 2008
Izzy To The Rescue
I haven't always been the biggest fan of
Jason Isringhausen
, closer for the St. Louis Cardinals. I mean, I have to have a player to dislike, right? (I mean, besides Chris Duncan.) But, I have to say, when Izzy gets bored,
he gets creative
.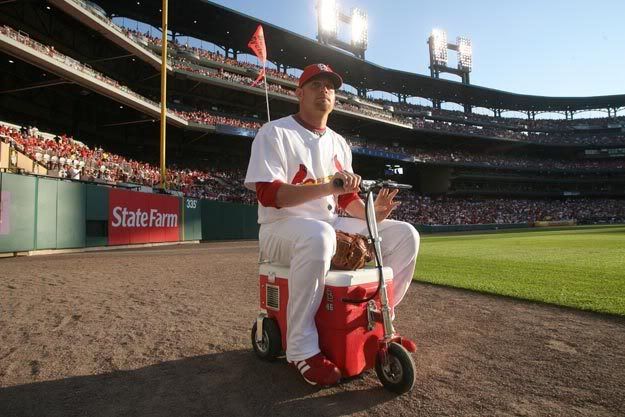 Yes, my friends, that is a motorized cooler. Not just motorized, but drivable. And yes, I know
where I can get
me one of those
. (According to Dead Spin, they are available in team colors, but I can't verify that at this time.) If you are in New York, be warned that
it is considered a motorized vehicle
, so carry your license and drive responsibly, ok?
Now, whether or not Izzy actually built it himself (it does look like one of these), it's still a really cool contraption, and cudos to Izzy for thinking to get one. And, don't worry... someone's already warned them as far as the Tony-DUI angle is concerned.