To read the tribute to SFC Marcus Muralles, please click here
Saturday, July 12, 2008
Tony Snow has passed away
.
Tony Snow, the former White House press secretary and conservative pundit who bedeviled the press corps and charmed millions as a FOX News television and radio host, died after a long bout with cancer. He was 53.

A syndicated columnist, editor, TV anchor, radio show host and musician, Snow worked in nearly every medium in a career that spanned more than 30 years.
The President has issued
this statement
:
Laura and I are deeply saddened by the death of our dear friend, Tony Snow. Our thoughts and prayers are with his wife, Jill, and their children, Kendall, Robbie, and Kristi. The Snow family has lost a beloved husband and father. And America has lost a devoted public servant and a man of character.

Tony was one of our Nation's finest writers and commentators. He earned a loyal following with incisive radio and television broadcasts. He was a gifted speechwriter who served in my father's Administration. And I was thrilled when he agreed to return to the White House to serve as my Press Secretary. It was a joy to watch Tony at the podium each day. He brought wit, grace, and a great love of country to his work. His colleagues will cherish memories of his energetic personality and relentless good humor.

All of us here at the White House will miss Tony, as will the millions of Americans he inspired with his brave struggle against cancer. One of the things that sustained Tony Snow was his faith - and Laura and I join people across our country in praying that this good man has now found comfort in the arms of his Creator.
The first time I ever heard Tony Snow was when he guest-hosted for Rush Limbaugh. I'll admit it- I've been a fan ever since, whether it was listening to him on Rush or his own show (when I could catch it, that is) or watching him on FoxNews or watching him mock Helen Thomas as Press Secretary. From what everyone says, no matter what he did, he did it with integrity and honesty and kindness.
While Press Secretary, Tony Snow travel with President Bush to Memphis. Here is a photo of Mr. Snow taken on Air Force One: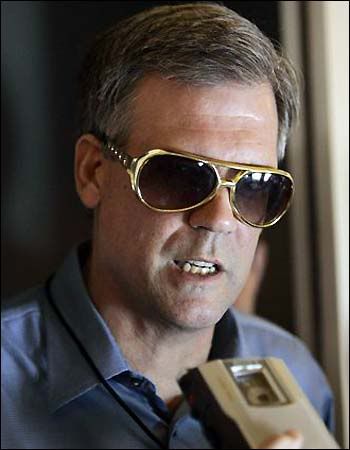 My thoughts and prayers go out to the Snow family and his many, many friends.
UPDATE: Daily Kos' morons have already started in, trashing him. (No, I'm not going to link to them. Go find it yourself if you really need to see the bile.) What's funny is that they said that FoxNews said horrible things about Tim Russert, and that is a total lie. FoxNews was nothing but respectful of Tim Russert and his family. I guess they're just into projection or something.