To read the tribute to SFC Marcus Muralles, please click here
Wednesday, August 13, 2008
A Little Bit of Olympic Posting
I guess I should say, "a little bit of swimming posting." Or, even more exactly, "here's some Michael Phelps accolades" and a little bit of some other stuff. Yeah... that's about it.
Unless you've been living under a rock, you know that
Michael Phelps has won more gold medals than any other single athlete in modern Olympic history
. Not bad, not bad at all. Let's see what's being said...
Lebron James, Jason Kidd and Dara Torres
showed up to cheer the men's swim team
. HDD told me (but I can't find a link... sorry) that James sent Phelps a text message, congratulating him after one of his gold medal performances. And Phelps doesn't think he's all that.
No
,
really
.
Here are some
ESPN
pieces
on
Phelps
. The New York Post calls Phelps "Boy Gorge"...
not without cause.
Last night on FoxSports Radio, I heard the host (Ben Maller?) say that Phelps had tested positive... for gill slits. That ties in nicely with this cartoon from the New York Post: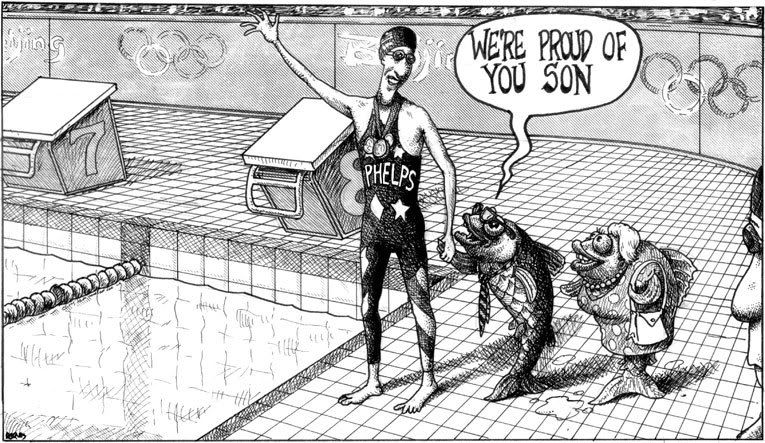 I check out Sean Delonas' cartoon every day. Love him. I'm sure this is copyrighted by the NYPost.
You know... I've seen Phelps' mom's picture...
she doesn't look like a fish
. (Aw... isn't he sweet? He gave his mom his bouquet! Good son! Boys... take note!) Then again... her daughter also swam competitively... maybe she is part fish...
Phelps recorded yet another world record in the 200m butterfly, and
he was upset.
He could have gone faster, you see, if his goggles hadn't filled with water. I agree with
Joy Russo
... the fact that he could have been faster is just plain scary. (Personal note- I'm impressed when anyone, Olympic athlete or Joe Blow, can open their eyes under water and see something. Can't do it. Never could.)
Let's go back to the 4x100 freestyle relay. before the race, the French team (go figure) engaged in
a little trash talking
(
"The Americans? We're going to sm ash them. That's what we came here for. If the relay goes according to plans, then we'll be on a roll."
-- French swimmer Alain Bernard) How'd that work for you, Alain? Oh, yeah... you were beat at the wall by .08 sec. No problem... (Cudos to the Washington Post for beating up Alain. They did a good job... for a change.)
Here's the non-swimming note. India has its first gold medal... ever.
Here's what gold medalist Abhinav Bindra's mom
had to say to reporters:
"Now I have lots of work ahead as he is the country's most eligible bachelor."
Yup... that's a mom for you. [His status as "most eligible bachelor" has been boosted by a 1.5 million rupee (~$35,000) bonus for bringing home the gold.] Supposedly, the search for his future bride is in full swing.