To read the tribute to SFC Marcus Muralles, please click here
Thursday, September 25, 2008
Jinx!
Would it jinx the Cubs'
chances to win the World Series if a photo of their World Series tickets was made public? Well... just in case...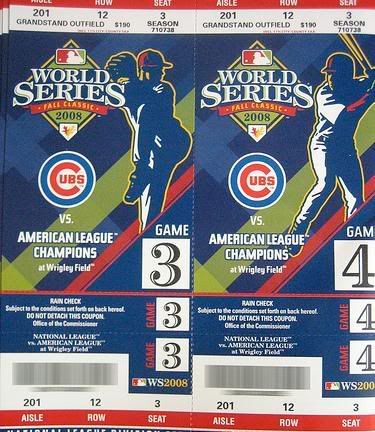 I have mixed feelings about the Cubs winning the World Series this year.On the one hand,
they're the Cubs
. Aside from the last couple of years, they... um... how do I put this... stink. It's what they do. Seriously, their 2003 NL Championship win was their first post-season series win since they won the World Series in 1908. Stinking is what they do. On the other hand, at the beginning of the year, I posited the notion that, if the Cubs were allowed to win the World Series in 2008, order would be restored and it would 100 more years before they won again. The way they've played this season, the latter might be a viable option.
Part of me hopes they aren't jinxed by this... part of me...